Online Business Valuation: What You Need to Know to Be Prepared
Posted By
If you're at the stage in your business journey where you're building out your business plan or perfecting your pitch, developing an understanding of how to value your online business for eventual sale may feel somewhat premature.
However, even if selling your online business seems like a far-off prospect, a basic understanding of the drivers behind a favorable valuation can help you make your business more successful today. 
The following chart highlights many of the considerations that factor in heavily when it comes to how to value an online business, like healthy financials, operations and management requirements, your competition, and the depth of your customer base: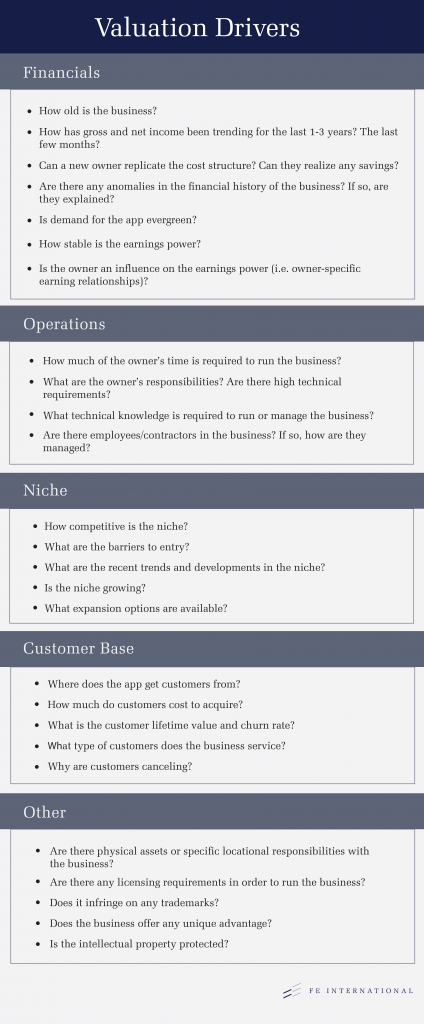 Specific business valuation methods and drivers depend on the type of online business in question. For example, the valuation for an app business will factor in daily active users, while an ecommerce business won't have a daily active users metric, and might instead focus on distribution of sales per SKU (among dozens of other factors). There are, however, some widely-applicable considerations for determining what your business is worth.
In this post, we will examine the valuation factors virtually all online businesses have in common. Addressing them now, well before you're looking to sell, will have an immediate positive impact on the success of your business.
Get passive
When bootstrapping your startup, 80-hour work weeks might feel like par for the course. Certainly, it is the rare successful entrepreneur who is not willing to put in long hours building their business.
While pouring nearly your whole life into your work may be necessary in the early stages, it is likely not sustainable or advisable in the long term. In fact, one of the most important metrics for calculating the value of your business is the level of owner involvement.
If you, as the owner, are spending more than 20 hours per week operating your business, it will almost certainly negatively impact your valuation. This is because the majority of buyers are looking for passive income.
So what steps can you take to limit the number of hours you spend working on your business? One of the biggest obstacles may be psychological. Many founders are reluctant to delegate their work because they feel no one can do it better. While understandable, this can be counterproductive when it's time to scale and eventually sell a business.
Make a detailed, objective assessment of what you devote your hours to as an owner. Identify areas of your operations that can be delegated to employees or, even better, outsourced to freelancers. Upwork and Moonlighting are two reliable sources of freelance talent.
Once you have streamlined your processes as much as possible, avail yourself of the opportunity to create Standard Operating Procedures (SOPs) for each facet of your operations. SOPs make it easier to keep employees and freelancers on the same page, as well as making a transfer of ownership or operational responsibilities as friction-free as possible.
On the books
One of the most important factors in the long-term success of any business is adhering to accounting best practices. In the early stages of a business, it can be easy to lose sight of just how important it is to maintain comprehensive and accurate financials. That is why it's a good idea to integrate a powerful accounting solution, such as QuickBooks or Xero, and invoice management platforms such as FreeAgent, into your operations right from the start.
QuickBooks syncs with your bank accounts in real-time, eliminating much of the toil of traditional bookkeeping. Used properly, it gives you an accurate snapshot of the financial health of your business on demand. This will prove invaluable not only when it comes time to value your business but also in day-to-day operations.
While vital, rock-solid financials are not the only records you need to keep. It's also essential for any online business to track and maintain records of website traffic. Traffic is the lifeblood of any online business. At a bare minimum, you should have Google Analytics installed on your website to help determine where traffic comes from, how you're converting, and many other analytics.
There are two primary sources of online traffic: organic search and paid search. If a significant amount of your traffic comes from organic search, that potentially leaves you open to search engine algorithm changes, Additionally, look into what keywords your site ranks for and how competitive they are. SEMrush and Ahrefs are two valuable tools that can help measure these metrics and aid you in researching the strategies of your competition.
Branding and marketing
If your business operates in a competitive niche, one of the most important ways you can differentiate yourself from your competitors is through branding. Even in the world of SaaS businesses, where functionality is traditionally considered king, branding is becoming increasingly important. A strong brand identity will make a business more attractive to buyers, investors, and consumers.
Keep in mind the value of your brand being able to "stand alone." While it may be tempting to have the founder (or another individual) become the "face" of the brand, consider how this may complicate matters when the time comes to transfer ownership. A strong stand-alone brand will be more attractive to buyers than one that is dependent on the participation of the founder or other individuals.
Going hand-in-hand with effective branding is a robust and replicable content marketing strategy. Content marketing has been shown to be three times more effective at a 62 percent lower cost than outbound marketing. If your website does consistently well in Google's Search Engine Results Page (SERP) ranking, that's almost certainly a result of an effective content marketing strategy.
The benefits of content marketing do not manifest overnight. It takes time and consistency to affect organic search results. Similarly, regularly sharing quality content over a long period of time will help build a following on social media networks such as Facebook and Twitter. If your business can demonstrate an effective content marketing strategy that can be easily replicated by a new owner, this will increase the value of your online business.
Creating quality content and delivering it across all your channels on a consistent basis is no easy feat, which is undoubtedly why 62 percent of businesses outsource their content marketing. Outsourcing to an agency is one proven way of delivering a powerful and effective content marketing strategy. It also makes the marketing component of your online business easily transferable to a new owner.
Final thoughts
No matter what stage you're at in your founder's journey, having a basic understanding of what makes an online business attractive to business buyers and investors can help improve your future earnings potential.
Even if selling your business seems like a distant goal, focus your attention on being able to produce accurate records of finances and traffic. Work to limit your own hands-on involvement. Be consistent in your effort to build a stand-alone brand and an effective content marketing strategy. It will make your business stronger today and put you on track for a successful exit when you're ready.
Join over 1 million entrepreneurs who found success with LivePlan