Jed Darland Cultivates Depth of Scope: A Secret to Success Story
Posted By
When it comes to design, Jed Darland has the sensibility of an artist, and the ingenuity of an inventor. When it comes to business, he's an opportunist in the best sense of the word. Jed knows how to seize the moment, turn downtime into a new venture, and that venture into a successful business. His passion for learning, methodical turn of mind, and hands-on approach to everything from market research to manufacturing to concept design shapes his entrepreneurial style.
The story goes like this: Fresh out of the architecture program at Carnegie Mellon, Jed launched a business in strategic branding and market consulting, in part through publishing a black-and-white photography book on the decorative arts as they relate to the human body ("Sexitecture: The Female Body Graced by Architecturally Inspired Furniture.) And then, because he's an inveterate self-starter who's always turning to new ventures, he took up his lifelong passion—woodworking and furniture design.
He was refurbishing classic and custom furniture for a condominium he'd bought for himself in his hometown of Seattle, when he realized he'd accumulated rather a lot of scrap lumber. In one of those classic off-the-cuff moments given to creative minds, Jed came up with a new idea: beautifully finished tapered sticks designed to mark and identify the rows in his vegetable garden.
"I was planting my garden for the patio area and wanted to mark my plants with something that matched the simple and elegant patio furniture. After a few iterations, I designed the Plant Picket mainly because my handwriting is terrible and I didn't want it to detract from the beauty of my garden. It was really important for me to create a marker that only had in it elements you would find in the garden."
The plant picket is made from untreated recycled premium rot-resistant lumber that weathers naturally. Each picket has a resin window containing an injection-molded, hand-painted, image of a vegetable or flower that's double-cast in resin. It's a clever idea that has captured the imagination of gardeners and landscapers across the country.
Plant Picket, now in its eleventh year, was recently featured on Martha Stewart's website as part of her competition highlighting American-made goods, and in Green Profit Magazine.
But it takes more than a good idea to succeed in business. You have to love what you do, and take infinite care in doing it, and you have to explore all facets of your project, embrace the problems, and come up with creative solutions. With a touch of the Leonardo da Vinci about him, Jed has built the prototype for every piece of machinery that goes into making the plant picket. When something goes wrong in manufacturing, he knows why.
"It's important for anybody running anything to understand how to do everything. If you understand all the aspects of your business, you're more capable of overcoming obstacles when they come up, and they will."
Back in the early days, people visited his condominium—turned showroom for elegant, smart design—and spotted his plant markers. "They asked me, 'Where did you buy those?' and I said, 'I didn't buy them. I made them.' They're, like, 'Where do you sell them?' and I didn't have an answer for that.
"After twenty people told me the same thing, I decided to test the market. I took my prototype to the Independent Garden Center Show in Chicago, and I introduced it to the gardener community, and people liked them. They all said the same thing, 'Those are so cute.'
"Then I took my samples around … I went on a road trip and visited about 300 nurseries and independent garden centers across the country. I also went to major metropolitan areas and areas of higher income demographics, and checked out their nicest nurseries and took the product in to show them."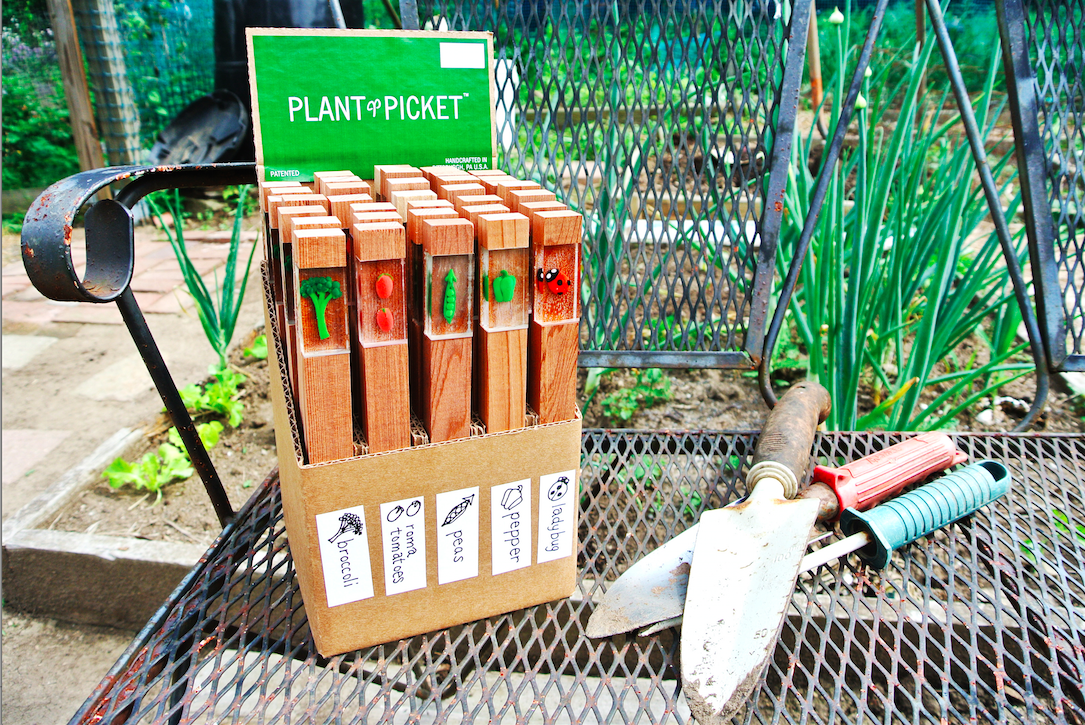 It was essential to produce the plant picket as efficiently as possible to keep it affordable. "In everything I do. I'm usually thinking about the efficiency of an action, an operation…" even if it's only driving across town. "I'm methodical in the way that I do things. A lot of the design I do is based on either the most efficient way to build [something], or the minimum necessary structure to keep it upright."
With any concept, he says, "it's very important that you have a really solid depth of scope, which is to design something from front to back for the person or the thing that it's designed for. I think all of my projects feel that way.
He's always on the lookout for ways to tailor the plant picket to suit an evolving market. He communicates with seed companies and others in the industry about what's coming and what to expect "because we've got to make sure we're supplying the right items to our clients."
"You have to first identify your market, and then you have to be able to instill the features and benefits of the product or service in the entire design, down from the name to the font which is used to the colors that you choose. I think branding is key to a successful business.
"I think that the business plan I did before I embarked on this product, Plant Picket, causes you to think of things that you wouldn't have otherwise thought of. It helps you setup contingencies because it's never going to go exactly how you think it is. I think the business plan is super important because it is fluid and you can update it based on what's going on.
"It's a super important part, especially for what we're doing. We've got 191 skews, and reports, our reports are probably the most important thing when it comes to reducing cost of inventory for us. Each show we do, every appearance we make, every store we sell our product in, we have to know exactly what's selling. We need to know what the expenses were to get that sale. We do a lot of financial tracking. It's extremely important because … if you're not making money, it's not a business."
For a fascinating look into the world of manufacturing Plant Pickets, take a look at this time-lapse video of their creation:

What are your favorite tools?
My Leatherman
Moleskin journals, because you never know when you'll have a great idea or remember something important you have to make note of, and for many people, there's just nothing like putting pen to paper.
The GasBuddy app because I'm always on the go and it's a great app that locates the cheapest gas in your area.
The Adobe™ Creative Suite for all of my design projects.
Ultimately, what do you think is the secret to your success?
"The first four words in my employee manual are 'Work smart, not hard.' I think honesty, taking accountability, and being responsible. I think that if you're honest and you take accountability for your actions, you're going to be a lot more responsible. Every action has an equal and opposite reaction, so when you go through life doing things, you've got to figure out what things you're going to invest your time in because that's one thing you can't put a value on. I think you just learn you've got to execute because if you don't execute, they're all just ideas."
Join over 1 million entrepreneurs who found success with LivePlan